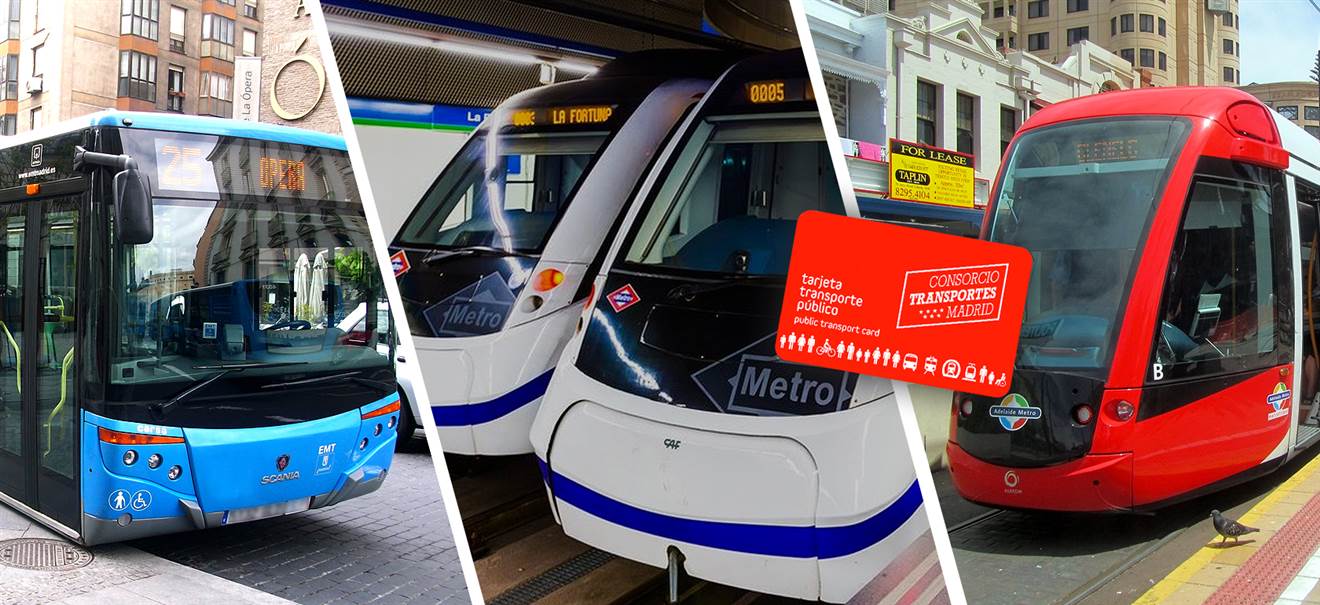 Madrid Public Transport Card (Tourist Travel Pass)
To product
Traveling to Madrid and want to visit all the highlights at your own speed? The Madrid Public Transportation Card is exactly what you need! 2 or 3 days of unlimited public transportation (metro, bus and tram) in Madrid with the Tourist Travel Pass Public Transportation Card delivered in your accommodation!
Includes: 
Madrid Public Transportation Card for 2 or 3 days (Metro, Bus and Tram) 
Delivered in your accommodation by our bike courier
Map of the Public Transportation in Madrid delivered with your card
What are the advantages of booking online?
Direct tickets!
Don't wait in line at Tourism Offices!
No machines where you need to buy the cards
Save you time and is hygienic!
Unlimited Public Transportation in Madrid (Metro, Bus and Tram) 
Madrid Public Transport Card (Tourist Travel Pass)
Receive the Public Transportation Card directly in your hand. Our bike courier makes sure your Public Transport Card gets delivered in your accommodation on the moment you need it.
Be well prepared and make sure you can start traveling without any delay or waiting at the Tourism Office or Ticket Machines to arrange your tickets..
The Public Transportation Card is valid for 2 or 3 days and gets activated on the first moment you start using it. It is valid for all the metros, busses and trams in Madrid.

How does it work?
Select the date you arrive in Madrid. 
Select the amount of persons. 
After your reservation we will ask you in which accommodation you are staying.*
*When you don't have an accommodation yet you can fill in this information later. 
FAQ
The most Frequently Asked Questions regarding the Public Transportation Card.
How do I get the Madrid Public Transportation Card when I am staying in a hotel?
Our bike courier will make sure the cards are delivered in your hotel one day before your arrival. You can pick up the cards at the reception of your hotel.
I am staying in an apartment without reception. What do I need to do? 
That is not a problem.  You can text the bike courier on the moment you arrive in the apartment and share your location so the bike courier can drop off the cards. 


What if I did not receive my cards?
We get a delivery confirmation of the bike couriers when they dropped of the cards. When you did not received the tickets in the hotel (which is very unlikely to happen) mostly the receptionist does not check his inbox very carefully. In that case you can call us and we will call the hotel. When for some reason the cards were not delivered we will reimburse you the complete amount. But like we said, this never happens. 
Is there a possibility to book tickets for children?
Children under 4 travel free with an accompanying adult.

When does the Public Transportation Card validity start?
The Public Transportation Card is activated on the first moment you start using it in the metro, bus or tram. From that moment on, your card is valid for 2 or 3 consecutive days. 
Where can I check out the stops of the public transports?
You can find the stops
here
.
What would I pay at the Tourism Office?
For the 2 days you would pay 14,20 for Zone A euro and for the 3 days card you would pay 18,40 euro. Then you need to wait in line. With us you pay 3,62 euro for the delivery costs to your hotel. This service will save you a lot of time and hassle using this Hotel Drop off Service.